Our Wedding Cars in Kent, Surrey, Sussex, Hampshire, Croydon
The Harveys fleet of wedding cars
See all our wedding cars which are available for hire in Surrey, Sussex, Hampshire and parts of Kent and London. We primarily operate in an area of approximately 50 miles radius from our base in Redhill, though if you are further way we would be happy to discuss your needs.
More information on each car can be found by clicking on the image of the car or the "more information" link. And if there's more you want to know, then please do call or email us. You are of course welcome to come and inspect the cars (by appointment).
Probably for many it is just the look of the car and the luxury that counts. But there are the practical issues about how much room there is for the size of a wedding dress, and being able to get in and out of the car with due elegance. Our Bentleys fit this purpose perfectly and if you have any interest in cars you will realise you are riding in a piece of automotive history. But whatever your interest you will no doubt just enjoy being transported in luxury and style to your Surrey wedding on your special day!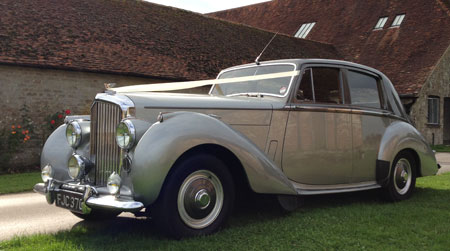 R Type Bentley – classic 50's luxury.
The ' R' Type was produced from 1952-1955 and during this period only 2,320 were made, and probably only 1,100 remain worldwide. This was the fastest 4 door saloon money could buy in the 1950s with a top speed of 105mph. This beautiful car is highly sought after as a wedding car, due to its silky smooth ride and palatial interior.
…read more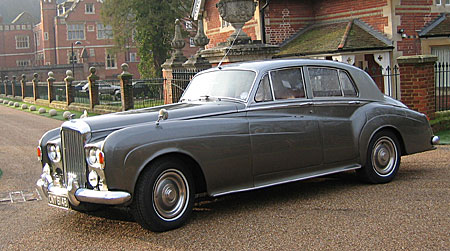 S3 Silver Cloud Bentley – classic 60's elegance.
The S3 was built in the 60s for long distance cruising and could sit all day at 100 mph, then deliver the occupants relaxed, uncreased and without ringing ears. Vanity mirrors in the rear compartment help with the final important make-up and hair check before the wedding ceremony.
…read more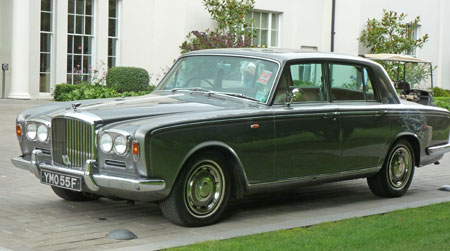 T1 Silver Shadow Bentley – classic 70's style.
This is the Bentley version of the highly successful Rolls Royce Silver Shadow, and is a series 1 model of which only 1,700 were made (as against 36,000 of the Rolls Royce). This car is extremely rare and luxurious, and is a real head-turner – guaranteeing that you get even more pleasure on that special day in your life.
…read more
Bentley RT – comfort and sophistication from the 90's.
Our fantastic Bentley RT is a 1997 model, and one of only 50 made. This beautiful Bentley is in midnight blue livery, with a parchment leather interior piped in dark blue. The carpets are luxurious, navy blue lambs wool rugs.
This car is incredibly spacious, with vanity mirrors in the rear compartment to help with your all-important final make-up and hair check, for your special Surrey wedding.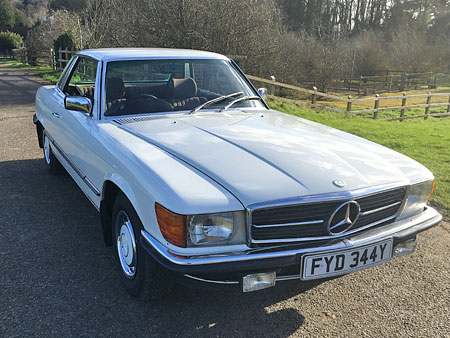 Mercedes SLC – sporting luxury from the 70's.
This 4 seater car combines sportscar performance with Mercedes' renowned luxury and elegance. Although a 2 door car this is a true 4 seater, and will whisk you to your Surrey wedding in 70s supercar style.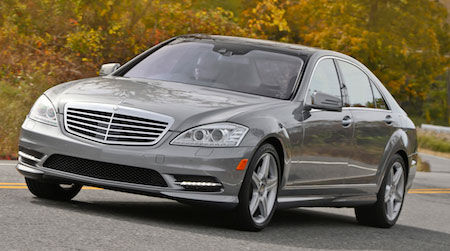 S Class Mercedes – the latest in modern comfort and performance.
The perfect mix of sleek design and state-of-the-art safety. This 21st century classic is the car of choice for executive chauffeur driven car hire.
The S Class Mercedes takes any route in its stride, pampering you with a luxurious interior, near silence, and a superbly comfortable ride, to ensure you arrive at your Surrey wedding in serene style.